Metcalfe Plant Hire has been working hard over the past few weeks to create a new 'Nurture Garden' for the pupils of Yanwath Primary School.
The team at Metcalfe Plant Hire had heard that the school wanted to develop their outdoor space, so offered their services to help them redevelop a used area of the playing field. Working alongside the Parent and Teachers Association (PTA) for the school, they did all the necessary groundworks for the new outdoor space, put up fencing and tidied up the playing field. The PTA also worked hard in laying bark, building planters, wooden seating and a fire pit.
Cate Floyd, Headteacher at Yanwath Primary School commented,
"There is no doubt that the pandemic has had a huge impact on young children. They have had so much time away from school, not seeing friends and family and often being stuck indoors. We wanted to make sure that their return to school was as smooth a transition as possible and we also wanted to make sure our pupils have the opportunity to spend as much time as possible outdoors, for their mental and physical wellbeing."
In a recent survey led by Natural England, 81% of children stated that they had spent less time outside with friends during the lockdown. 70% per cent of children said that they want to spend more time outdoors with friends, and 44% reported wanting more time outdoors at school.
Cate continued,
"We have a lovely big playing field, which is fantastic for physical education, but we really wanted a dedicated outdoor learning classroom, where we could teach the children about science, nature and the environment, read stories and have fun. Research shows that healthier and happier children do better in school and we want to ensure our pupils have the facilities to help us achieve this."
The new 'Nurture garden' as the school have called it was completed by the team at Metcalfe Plant Hire during the Easter Holidays, ready for the children to begin using at the start of the summer term.
Matthew Healey, Contracts Director for Metcalfe Civil Engineering, a division of Metcalfe Plant Hire Ltd coordinated the project.
"We were approached by a member of the school's PTA and when we heard about what they wanted to achieve we were happy to give them a hand. Many of the team at Metcalfe Plant Hire are parents and we know the impact the pandemic has had on young people and how learning outdoors can help. The end result is fantastic and we hope the pupils of Yanwath Primary School have hours of fun using the new outdoor classroom"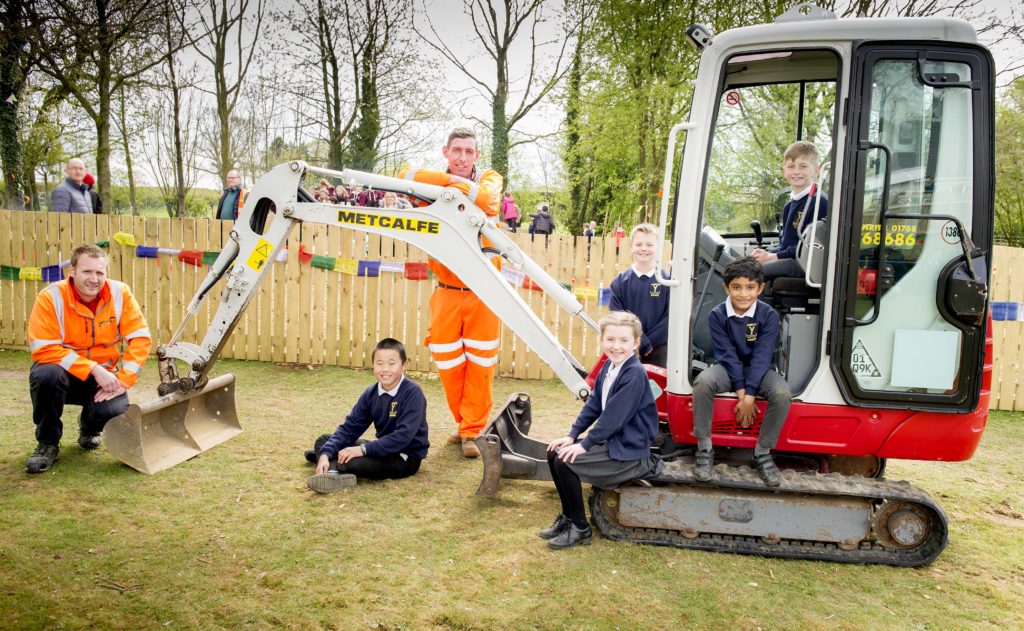 The Nurture England Survey also demonstrated the positive role of nature in supporting children's well-being, with 83% of children agreeing that being in nature made them very happy, so the new Nurture Garden at Yanwath Primary School is a most welcome new space to the learning facilities provided by the school.
Cate finished by saying,
"We also just wanted to take this opportunity to thank Metcalfe Plant Hire for their professionalism and generosity in supporting the school with this really special project, that will immensely benefit our pupils now and into the future."